Cyber Crime Investigator salary are in huge discussion as cyber crimes are growing tremendously. Data breaching is one of the most famous cyber crime. Look at the below data showing the cost of data breach in different from top to bottom cost of data breach level.
Cost of a data breach globally from May 2020 to March 2022, broken down by industry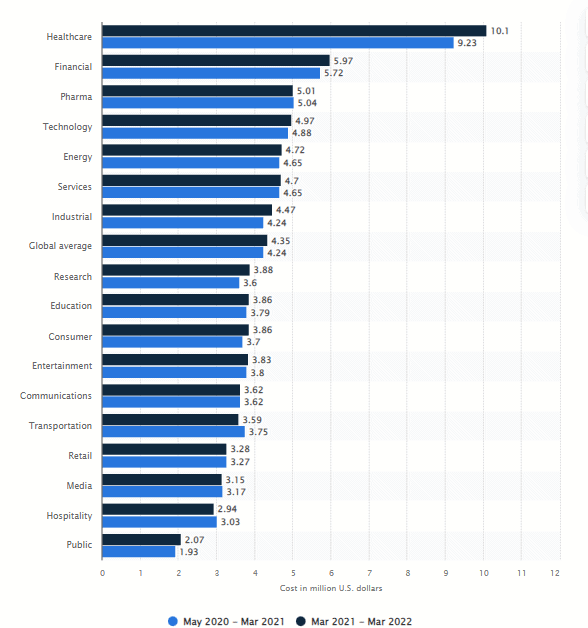 Cyber crime investigator job is not only in huge demand but also brings problems for job seeker as this job demands more and more expertise and pressure handling.
One cannot express any excuse regarding investigation and proofs in cyber crimes. So to insure all the factors lies in your cyber security Investigator career this blog can really helpful in that.
We have covered sufficient information whether it come to education, certificates, roadmap, skills and salary.
What is a Cyber Security Investigator?
A trained, experienced and specialized cybercrime investigator or detective in the field of cybercrime. These investigators, in demand in public and private sectors, have the expertise to solve serious digital unethical activities.
The main goal of a cybersecurity investigator is to collect data from digital systems that can be utilized to prove criminal activity that takes place online or in the cyber world. The usage of the internet in numerous crimes in today's society.
Important information may be gathered by a cybercrime investigator to aid in investigating these offences.
The cybercrime investigator is in charge of looking into cyberattacks by terrorists, foreign enemies, and criminals. Cybercriminals pose major abuses that are only becoming worse. Cyberattacks are growing more frequent, dangerous, and complicated.
How to become a Cyber Crime Investigator?
To become a cybercrime investigator, you do need training, knowledge, skills and experience. Both cybersecurity and investigations-related education and skillsets, or a mix of both, must be included.
A bachelor's degree in criminal justice, cybersecurity, or computer science is often expected by a cybercrime investigator.
New approaches are constantly being used in the field of computer forensics and cybercrime. You should be ready to keep updating your understanding in the industry.
Hard Skills Required to be a Cyber Crime Investigator
Having a good understanding of evidence documentation( Required in court)
Expertise with Cloud Computing
IT investigation and digital forensics experience
Professional in SQL
Basics of information Security
Education for Cyber Crime Investigator
Cyber Investigator Certifications
There are certification courses available to demonstrate to prospective employers that you have the necessary skill set to work in cybercrime investigation.
Certified Information Systems Security Professional (CISSP)
Cyber Crime Investigator Salary
Average Salary offer for Cyber Crime Investigator all over US
The average yearly salary for cybercrime detectives in the US is $ 64661.83. Furthermore, a variety of criteria are taken into account when calculating your compensation.